Cloud Sofa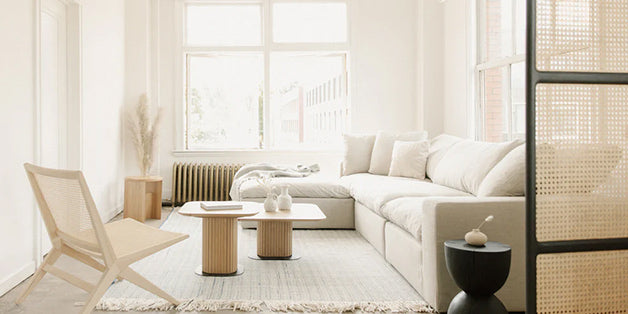 Posted by Thomas Goldsworthy on August 23, 2022
The Cloud Sofa: An Honest Review
Your family sofa is where life happens. From casual conversations and meaningful moments to true relaxation and time with family and friends. For most of us, it is the gathering point for the home. And it's a big investment. Choosing a sofa that's right for you matters.
So, what is a Cloud Sofa?
Within the period of less than a decade, the Cloud Sofa has become a cultural object in its own ways. For some, known simply as the Cloud, and it is highly adored. The basic, yet luxury design has quickly captured the attention of the design & interiors world, with its effortlessly simply aesthetic, crisp white color scheme, and customization potential. Yet others believe that the attention is unwarranted. Love it or hate it, the Cloud Sofa is the ultimate sofa combining functionality, huge comfort, and minimalist style.

The Cloud has consistently been our best-selling design for 3 years. Our customers adore this model due its huge comfort and expansive lounging experience, versatility of being a true modular sofa, the ability to fully wash covers, and the option to customize the sofa to fit your style and space. Our experience has shown that if you are in the market for the ultimate couch, and if you find yourself looking at a Cloud Sofa, you are probably in the right place. We will discuss the pros and cons of the Cloud – from the modular function, internal construction, overall size, customization, price, firms/softness, and maintenance – to give you the piece of mind that it is the right choice.
Why is Cloud our best-selling sofa?
The Cloud sofa provides unparalleled levels of comfort, combining the benefits of simple, timeless design, with a huge lounging experience that is unmatched with other styles of sofas. Based on the comments we receive from our customers, they choose the Cloud for the flexibility of a truly modular design, deeper style seating, the ability to build and customize a sofa to match the exact space they require, as well huge comfort. Because of the way the Cloud Sofa is a true modular, meaning that each piece is able to be coupled with the next piece. Unlike other modular sofas that are made to be fitted with respective pieces, the Cloud can be connected/placed against any of its brother or sister components. Uniquely, the Cloud Sofa is one of the only sectionals available boasting this functionality, thanks to its simple yet practical design. Cloud is known for its comfort and providing that sink-in feeling when you relax into it. It features a sensible mix of 50% Down Feather, and 50% Foam. How did we get to half half? After years of producing sofas, in search for the ultimate profile of comfort, we found the mix of 50% feather, 50% foam is them perfect level to ensure durability and long term performance, without sacrificing comfort.
How is the Cloud Sofa built?
The ever popular Cloud sofa is a sofa like no other, and is built in a particular way. All versions of this couch are handmade, in-house by our team. No cloud sofa is same, that's why we go to the extra detail to build your order from scratch. Like all of our sofas, Cloud is built on a Harwood frame. Particular selection of timber parts, ensure strong, sound, and durable frame that is everlasting. All the Timbers are sustainably source, and we elect to use Larch style lumbar, which ensures the highest levels frame strength with the ability to handle flex and pressures within the frame. Included into the base of the frame, is an 8 Gauge (non sag spring) system, which is recessed by 2 layers of high density inner foams. In conjunction with the mixed down, mixed foam seat, it creates a unique comfort profile that is highly sought after, exclusive to the Cloud. While visual appearance and style is important, the quality and longevity of the internal materials and build make a genuine difference in how your sofa weathers and handles with use over time.
Why the Cloud Sofa might not be right for you?
Size
The size of Cloud Sofa is not perfect for everyone. While Cloud has the ability to be a fully modular (meaning it can come in any way you wish to set it up), it is one of our larger options and this. Each module of the Cloud Sofa measures 110cm x 110cm. The sizing will depend on how you plan to set it up in your home and what you order. Most customers find the easiest way to find work out what size will work is to add the modules up and see how the size works in your place (ie. 2 modules across is 220cm wide, 3 modules across is 330cm, 4 modules across is 440cm). We also offer a smaller (petite) version of the Cloud Sofa which is 100cm x 100cm - this is perfect if the Classic Size is too large for your space. This was introduced at the start of 2022 to help customers who cannot fit the classic size. Please note due to the sizing differences, the Classic and Petite size can not be mixed. The Cloud Sofa ships in pieces to ensure it can be delivered into your room, and set up accordingly once it is unboxed. Remember to measure your living space before you search for a sofa, as this will save time and will rule out options immediately.
Modular design

Some people may consider a modular sofa to be the only way to go, although some others may not necessary need or prefer all the splits and connections that come with it. The Cloud and its modular design work best for those in small spaces who cannot fit a large sofa in, those who are looking to add or move pieces in years to come, or those who rely on the ability to move parts of their living space at times. Please note we offer modular clips free of charge, so costumers can turn their modular into a fixed sectional within a matter of seconds. Modular clips are not visible when installed.
Price
Quality furniture is a significant investment. Unlike standard couches which use normal grades of materials, the Cloud is possible through a premium range of components and materials which ensure the best possible product leaves our workshop. As a result, you may find the Cloud sofa to be a little bit more than what you thought it would be for a similar sized product. As we are an online only retailer, this allows us to offer our products at a much lower cost than bricks and mortar stores. As a result, we promise that our Cloud Sofa will be the cheapest option of this style variant for your budget, we work hard to ensure our prices are the lowest they can be, all year round. It is best to decide on your budget before ordering the specific size that you need. The best sofa for you is a sofa that suits your needs, and that includes budget.
Cushion filling
The Cloud seat, and back cushions are filled with 50% Down Feather, 50% Fibre. While this filling provides the comfort Cloud is known for, it needs to be 'plumped-up' to maintain a neat appearance and shape. You will need to fluff and pat the cushions at your desire, to maintain and keep the natural 'loft' of the Cloud Sofa. We also offer our customers the option for cost plus replacement cushions, made entirely of foam and not feather if they are wanting something a little firmer. The Cloud Sofa is also lower to the floor, and laid back. This is essential to ensuring the huge, deep comfort that you expect from this model.
Why the Cloud Sofa might be perfect for you
Modular design
The Modular function of the Cloud sofa can ensure the sofa you buy today, can be the sofa you take with you in 10 years. Having a fully functional modular design is super convenient for growing families, people on the move, or anyone else who loves flexibility. As we hand build all of our couches in house, you also have the option to add to the sofa over time. For example, if you moved into a bigger place and wanted to purchase an extra couple of seats, or purchase a new set of slip covers to change the look and colour of your modular, you can do that! A modular sofa is extremely functional and will also allow you to set the couch up in series of ways in which work with your lifestyle. The choice to create a custom configuration is at your disposal within seconds. Please see below some of our most popular configuration which have been created with our best selling set, the Cloud 4 Pcs plus Ottoman.
Removable covers
The Cloud is made from removable covers, meaning you can remove, wash, or change the covers of your couch at any point with absolute ease. If you spill something on the covers, you can perform a cold wash and stains are gone. This is extremely functional on a couch like this, where usage and lounging is taken to the extreme. Removable covers also allow you to purchase a new set to change the look and colour of your modular.
Customization
You can choose to order the Cloud sofa in any way you like. Sizes, coverings, and colours are all things in which can be custom ordered when you are shopping for a Cloud Sofa. Instead of sticking to the normal greys, blues, and creams of the sofa world, get creative and explore custom options which we offer. Please note, we have more than 200 Upholstery choices upon request, although our site will only list the most popular options. We also offer a smaller (petite) version of the Cloud Sofa which is 100cm x 100cm - this is perfect if the Classic Size is too large for your space. This was introduced at the start of 2022 to help customers who cannot fit the classic size. Please note due to the sizing differences, the Classic and Petite size can not be mixed. Understanding the pros and cons of the Cloud, from comfort to modularity, to size, cost, and the ability to customize, all lead to an informed buying decision. Because buying a sofa is a large investment, and takes up a fair chunk of your home and time, we welcome you to touch base with us at any point, shall you have any questions regarding something. Having the freedom and luxury to customize a sofa based on your exact needs is an integral part about what we believe in at Banana Home, and has been a huge factor in the success of this sofa. (Image Gallery LookBook) To learn more, you can read our Cloud Sofa product pages and view the available Cloud Sofa bundles. Feel free to reach out to us if you have any questions regarding our products.
Previous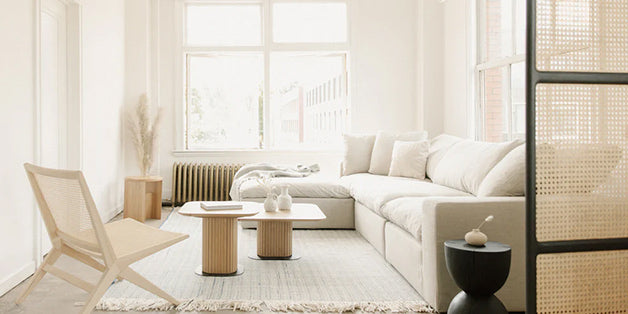 Posted by Thomas Goldsworthy on August 19, 2022
Next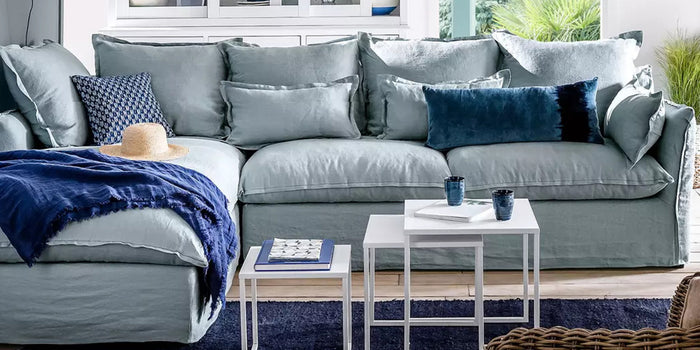 Posted by Thomas Goldsworthy on August 23, 2022