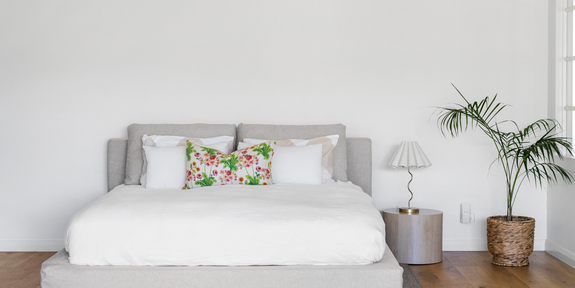 Bed Frames & Mattresses
Transform your bedroom with Banana Home's collection of high-quality bed frames and mattresses. Our selection is designed to create your ideal sleep environment with various styles and materials to suit your taste and budget. Our bed frames offer superior comfort and support, crafted from the finest materials for a restful night's sleep. Our mattresses provide varying levels of firmness to cater to your specific needs made from high-quality materials.

We're committed to providing the highest quality products and excellent customer service. Our team of experts is always available to help you find the perfect bed frame and mattress to suit your needs and preferences. Our collection features sleek and modern designs to rustic and traditional styles, enhancing your sleep experience.

A good night's sleep is essential for a happy, healthy life, and with our collection, you can experience the comfort and style you deserve. Shop our selection of bed frames and mattresses today to upgrade your bedroom into the ultimate sleep haven.

Sweet Dreams: Find Your Perfect Bed Frame and Mattress Combination
A good night's sleep is essential for a happy and healthy life. That's why we offer a wide selection of high-quality bed frames and mattresses to help you create your ideal sleep environment. Our collection features a variety of styles and materials, from sleek and modern to cosy and comfortable, all designed to suit your unique taste and budget. Whether you're in search of a low-profile bed frame or a plush mattress, we have you covered. Explore our collection today and start enjoying the sleep you deserve, including our popular cloud bed for ultimate cosiness.