At Banana Home, we began our journey in 1988 manufacturing furniture for major Australian retail chains, so we understand the importance of quality, integrity, and durability of a product. As a customer, the hardest part is spending a chunk of change on something without the confidence of knowing you're getting a great product at an exceptional value.

We're an almost entirely vertical furniture company, which allows us to be very deliberate about the vendors we work with. It means we can make our products to be of the exact standard we require, ensuring quality, comfort, and longevity.
We build all our custom pieces by hand using the best possible materials and to exacting standards. We explain about our products, construction, and how to maintain your new furniture's beauty and integrity for years to come.
Made to be uniquely yours
You're not like anyone else, so why settle for furniture that's made for everyone else?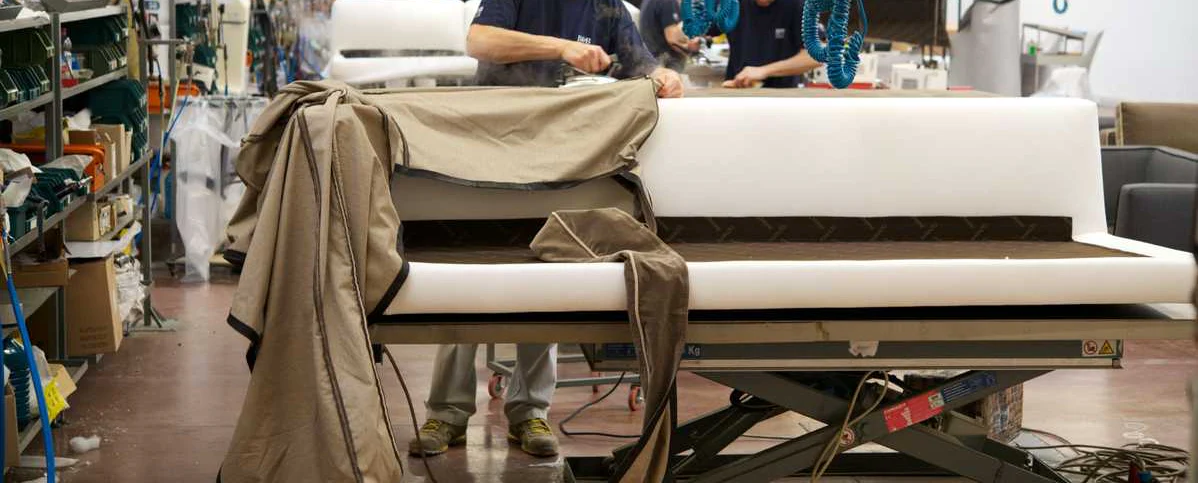 Frame construction
Our furniture frames are constructed with kiln-dried timbers,* solid wood that provide for exceptionally sturdy, long-lasting furniture pieces.
We include engineered wood which is made from layers of laminated wood to further reinforce the hardwood frames, increasing structural integrity. Our furniture frames are secured with corner blocking, industrial strength staples, and heavy duty furniture glues. All of our frames are backed by our limited frame warranty, applicable to the original owner and original delivery address only.
*The kiln-drying process avoids frame warping & the creation of mildew in climates which are humid, such as North Queensland. Majority of our sofas are tailored with a slight 'pitch'. This creates a slight angle in the seat/back section of the sofa and allows your body to comfortably sink into the sofa. The pitch is not visible on a sofa, and it engineered into the frame.
Suspension
Frames are bound at the base, with high tension sinuous (no sag) springs. The spring system is constructed with reinforced joints, that are securely fastened and provide long-lasting support and comfort. The backing on our frames (on which the back cushions are built into) is made with webbing that provides, subtle yet supportive comfort.
Foam Seating
All of our seat cushions are made from premium, dual layered high density foam seats. Foam is the most expensive component of a sofa, and is the first thing a manufacture will attack to reduce cost. We pride ourselves on using High Density foam seating, and costly, yet essential component to ensuring our pieces last structurally, and remain comfortable for many years to come. We make all of our product to be 'just right'. This is this mix between firm, and soft, the perfect taste for the Australia, and is what our customers define as 'very comfortable'. Foam cores will soften by 10-15% with usage, this is a natural property of foam and will bring out the best of your couch with usage. Our down cushions will become softer, gorgeous, and soften with use. This is normal and not a defect in construction. Our cushions are compliant with the current safety standards for flammability, and are safe for all families. Our products are proudly formaldehyde free, with each material carefully selected to ensure low VOC content.
Down Seating
Our down cushions will become softer, gorgeous, and soften with use. Models that are made from down, are intentionally built specially with a foam/down ratio that delivers the most sensual comfort experience, whilst delivering visual and comfort performance for years to come. If you use too much down, the seat will be disformed in years to come, if you use too little down, the sofa will not exhibit the amazing comfort people expect from feather.
We're an almost entirely vertical company, which allows us to be very deliberate about the vendors we work with. Our distributor only uses non-live-plucked down feathers, which they obtain as natural byproducts of the food industry. They're audited and inspected by the Feather and Down Association every year, and their certification is renewed annually. Of course, we understand that Feather Down isn't for everyone. It's why we put so much effort into making our Poly Fill as similar in feel as possible.
Centre Support Leg
Don't be worried when you check out your couch and notice the center leg support does not touch the ground. Generally, the center leg support, which can be found in the center of the couch underneath, typically does not touch the ground when no one is on the sofa. It is there for additional support to help even out the weight.

Sofa Bed Mattress Our Sofa Beds come in a few different styles, depending on the design of the sofa bed. The mechanism is commercial grade construction.

Our Innerspring mattress models fold into thirds and tucks nicely into the sofa frame with ease. These are made from two layers of foam (different densities) 13 gauge coil springs (322 springs in total) and a layer of foam layer of latex memory foam cotton fill (for softness) the entire mattress is wrapped in fabric ticking.

Our Memory Foam mattress models slide into the sofa, and operation on a 'slat' style draw/pull system. These are made from two layers of foam (different densities) specifically High Density Foam, and a top layer of latex Memory Foam.

Why is the memory foam only on the top? Because you really only need a small layer of memory foam to really feel the softness and effect of the foam. Each layer paired with the next gives the mattress its overall structure and comfort. Upon delivery of your new sleeper sofa, the sleeper mechanism will be secured to the frame with rope so that it doesn't open during transport. You will need to remove the rope for the sleeper mechanism to properly open and close.
Fabrics
Our fabric collections feature a wide range natural and man made materials. We work alongside the best possible vendors to ensure the coverings are well suited and love to the Australian home. All of our fabrics are tested, inspected, and put through a rigorous quality check phase to ensure maximum lifespan for our customers. Promotional manufactures may use non certified fabrics which are a not guaranteed for usage standards, as a result such products can experiencing fabric & surface degradation within as early as 1 year of use. We ensure all of our fabrics are certified through testing - this is a costly, yet necessary process to ensuring your sofa will last.
| Testing Name | Testing Results |
| --- | --- |
| Colour Fastness To Light: | Our fabrics are certified against fading due to UV exposure |
| Seam Slippage: | Our fabrics are tested and approved for yarn resistance under pressure |
| Pilling Resistance: | Our fabrics are tested and approved for absense of pilling under normal usage |
| Abrasion Resistance: | Our fabrics are tested and approved for abrasion resistance |
| Free of Formaldehyde | Our fabrics are free of the toxic and harmful chemical, Formaldehyde |
Our Production
Quality comes first
Each maker we work with is a master of his trade. There are those skilled in the complexities of upholstering premium leather hides. Others know the secrets of shaping and bending wood into sinuous curves. Some work exclusively on sofas, others on exposed wood chairs. All take great pride in the quality of their work—and we take great pride in bringing that superior quality to you.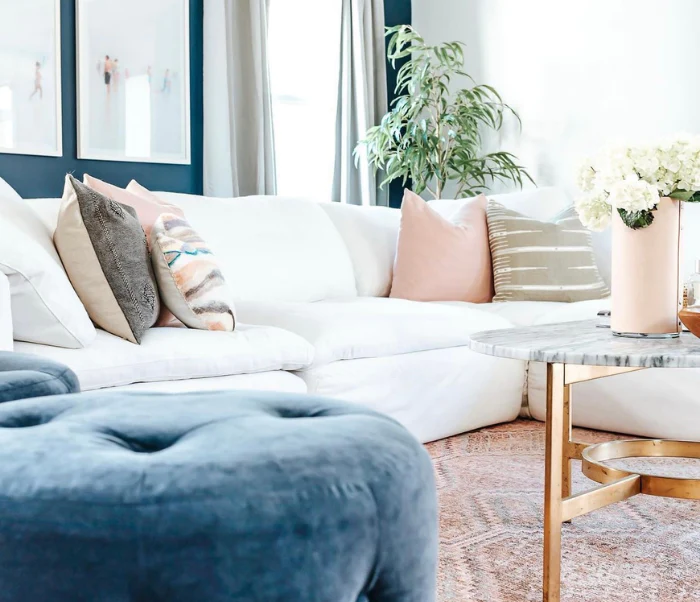 01
Your Product is Made
Over the course of 12 weeks, our expert craftsman handmake your sofa. We keep you updated, each week with build updates, to let you know how it is coming along.
02
Quality Control
Once your sofa is made, we inspect each component to ensure perfection. We check for every seam, and ever squeek.
03
Your Order is Shipped
Once your piece arrives, it hits the road and is out for delivery. All customers are notified well in advanced, so you can be prepared for this special day.