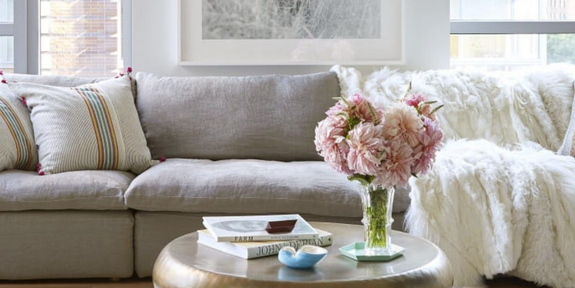 Modular Sofas
Create a living space that adapts to your needs with our unparalleled range of modular sofas. Designed with versatility, our modular lounges allow you to adjust their shape and configuration, offering exceptional comfort tailored to your lifestyle. They are not just pieces of furniture but also a means to express your personal style and enhance the aesthetics of your living room. Dive into our wide selection of modular sofas and let the transformation of your living space begin.
FAQ
What is a modular sofa?
A modular sofa is a versatile piece of furniture composed of movable units or "modules". These modules, which can be armrests, seats, or backrests, can be rearranged as per your preference, providing flexibility to change the layout of your sofa.
Are modular sofas any good?
Absolutely! Modular sofas are a perfect choice for those who love customising their living room layout. They allow you complete freedom in designing your space and adapting your sofa to the size, style, and function of your room. With a modular sofa, your comfort and aesthetic appeal go hand in hand.

How do modular sofas stay together?
Modular sofas usually feature a system of metal clips to secure the pieces together. One side of the module will have a bracket in a zig-zag pattern, while the other side presents a triangular design that perfectly fits into these brackets. It's a relatively straightforward process, but we recommend seeking assistance from a friend or relative to set up your preferred configuration.

Remember to explore Banana Home's extensive collection of sofa, bed frame, mattress, leather sofa, velvet sofa and cloud couch covers, each designed with attention to detail and quality craftsmanship, to find the perfect addition to your home.
Embrace Versatility with Our Diverse Modular Sofa Collection
There's no need to compromise on style, comfort, or space when you choose from our vast collection of modular sofas. These highly adaptable and design-friendly pieces redefine the potential of your living room, offering endless configurations to match your ever-evolving needs and style. The unique blend of practicality and aesthetic appeal makes these modular lounges a perfect choice for your home. Whether you're in need of an L-shaped sofa for corner spaces, a U-shaped one for large rooms, or a standalone piece for small arrangements, we offer an array of options to create your ideal living space. Explore our collection of modular sofas in Australia, and indulge in the luxury of a living room that evolves with you.