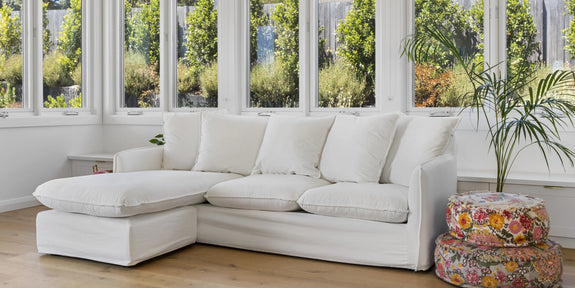 Chaise Sofas
Make the best use of your living room space with a Chaise Sofa. Not only will it help fill any gaps, but it provides a wealth of comfort to its user by allowing them to kick up their legs for absolute relaxation. If you want to add a little luxury and style to your living space, a chaise sofa is a fantastic option.

Is a chaise sofa a good idea?

A chaise sofa is an excellent idea if you need more seating, additional comfort, or to fill a frustrating space in the living room. Instead of using a side table, for example, the chaise can fill that area as an extension of the sofa. Chaise designs are praised for their remarkable comfort - who doesn't want to recline after a long day at work?

Are chaise lounges out of style?

The sofa with chaise first became popular in the 16th century in France. In fact, this design was made specifically for the rich to recline and rest without requiring a bedroom. Today, the chaise remains a popular favourite for the same reasons in addition to its elegant style. We recommend the Aswan Velvet Chaise Sofa to give you a luxurious appearance!
Explore Banana Home's wide range of bed frame, mattress, leather sofa, velvet sofa and cloud couch covers, each designed with attention to detail and quality craftsmanship, to find the perfect addition to your home.
Finish Your Long Day By Relaxing in Your Chaise Sofa
Banana Home is the ideal destination for your search for a perfect chaise lounge. Our chaise collection embodies comfort, style, and adaptability, offering a selection that promises to elevate your living space. For those seeking versatility and seating capacity, we offer a range of options from 3-seater to 6-seater chaise sofas. Whether you're entertaining a crowd or craving personal space, there's an ideal fit waiting for you. Immerse yourself in the world of cozy furniture with our unique Cloud Couch, available in both cloud classic and coastal styles - a remarkable addition to any home in Australia.
Allow us to introduce you to our best-seller - the Preston 6-seater sofa chaise. Renowned for its ample seating space and comfort, it's the perfect centrepiece for your family gatherings or weekend relaxation.