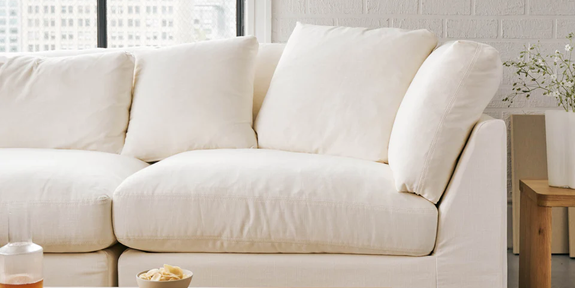 Cloud Sofa Couch Covers/ Slip Covers
Slipcovers and couch covers, also known as lounge covers, are essentially the same thing. They provide both protection and a fresh look for your sofa. At Banana Home, we offer cloud couch covers/ slipcovers that are constructed from plush, long-lasting material that perfectly conforms to the contours of your cloud couch. Our cloud slipcovers include frame covers, back cushion covers, and seat cushion covers, allowing you to customize your cloud couch protection. With a variety of colours to choose from, including options for couch covers in Australia, you can easily find one that matches your current décor.

Opting for a slipcover or couch cover is a cost-effective and convenient way to transform the look of your sofa without having to purchase new pieces. Whether you have kids, pets, or both, our cloud slipcovers are ideal for prolonging the life of your furniture. You can relax on your furniture without being concerned about spills, messes, or dirt.

So why wait? Explore our collection of cloud slipcovers today to find the ideal option for your home. With Banana Home's cloud slipcovers, you can protect your furniture and update its appearance at the same time.
Looking for something different? Check out our collection of premium leather sofas for a touch of class and durability in your living room.
Protect Your Couches With Easy-fit Couch Covers
A couch cover is a piece of cloth that covers the entire sofa. Besides refreshing the look of the couch, it protects your sofa from staining and scratching. Sofa covers usually preserve and restore a couch; however, you can also use them to change the colour or texture. Eventually, a couch cover can help your sofa look and feel better and complement the decor.