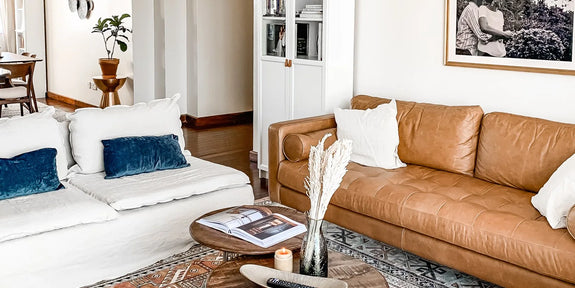 Leather Sofas
If you want to give your living room a touch of class and durability, consider getting a leather sofa. For high-use areas like living rooms, leather sofas are a great option due to their renowned durability and resistance to wear and tear. Additionally, they are simple to maintain and clean, and they age beautifully. The leather sofa selection from Banana Home is extensive and comes in a variety of shapes, colours, and sizes to match any living room design.
When looking to purchase a leather sofa, it is important to consider the leather's quality. Full-grain leather is the highest quality, as well as the most durable and long-lasting.
The colour and finish of the leather are also important considerations. Determine the style of your living room as well; traditional leather sofas have a more classic appearance, whereas modern leather sofa chaise have a more contemporary appearance.
Furthermore, measure your living room space and select a sofa that fits comfortably in the space while leaving enough room for other furniture and movement. Browse our leather sofa collection to find the perfect leather sofa for your living room! 
Complete your ultimate relaxation experience by pairing your leather sofa with our collection of high-quality bed frames and mattresses. Browse our collection today to upgrade your bedroom into a comfortable and stylish sanctuary. You can also browse our collection of couch covers for extra protection to your sofa.
Choosing a Leather Sofa for Your Living Space!
How can you tell a good quality leather sofa?
The two most noticeable pieces of evidence to guarantee a good quality leather sofa are the smell and texture. Upon feeling the sofa, you should notice its softness and warmth. The aroma will have a pleasantly rich smell instead of a nasty chemical scent that is often associated with faux leather. Good quality leather will also typically have excellent breathability, strength, beauty, suppleness, and water resistance, though some of these features may vary between different types of leather and sofas.