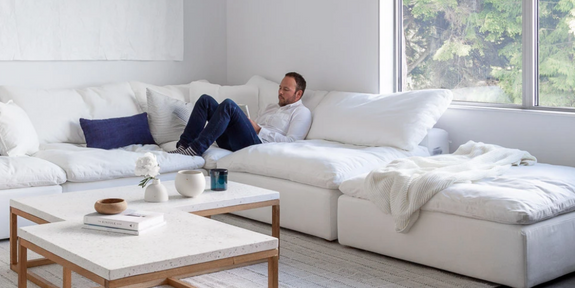 Cloud Classic
Introducing the Cloud Classic collection, designed to elevate your lounging experience to new heights. We've crafted these sofas to provide unparalleled comfort, versatility, and durability, making them the perfect addition to any living space.

Our Cloud Classics boast a cloud-like comfort. Handmade from Goose Feather Down, blended with Polyfill and cushioning, these sofas deliver a sensual lounging experience that's hard to find elsewhere. The unique, fully modular design creates endless possibilities for progressive individuals who want a customisable seating solution.

The versatile modular system is designed for those who value adaptability and personalisation. With only three individual units, you can order the Cloud Classic in any size or setup to suit your unique living space. This simple yet effective design ensures that your sofa will always be a perfect fit.

At the heart of our Cloud Classic collection lies skilled craftsmanship. Each component is meticulously handcrafted to the highest quality, using 100% Goose Feather to create a cloud-like seating experience. The sofa's mixed Polyfill cushioning ensures that it remains gorgeous and enduring over time. Designed to withstand the test of time, the Cloud Classic's comfort and profile are built to last.

Elevate your living space with Banana Home's range of high-quality collections of bed frame, mattress, leather sofa, velvet sofa and cloud couch covers, designed to provide comfort and elegance while standing the test of time.
Get To Know The Cloud Classic
Cloud Classic is the perfect choice because of its oversized nature and deep cushions. It has three basic cubes: a corner, an armless section, and an ottoman. Each modular component can be purchased in multiples, making it possible to customise and adjust the cloud classic to fit any space. The combination can consist of small or large pieces, straight, U-shaped, or L-shaped. In addition, it is also available as a standard sofa set.