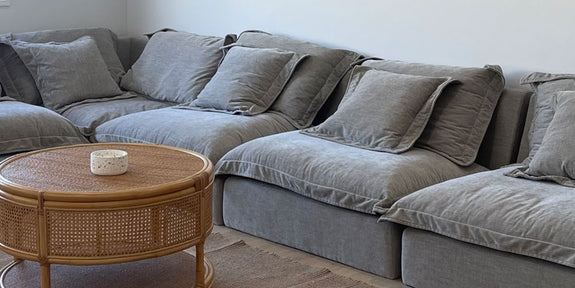 4 Seater Sofas
The 4 seater chaise sofa from Banana Home is the perfect pick for any living area. You'll appreciate this sofa's comfort and style whether you choose a fabric or leather sofa as your option. The 4 seater sofa with chaise design is ideal for entertaining guests or families, making it the top option for those who enjoy hosting events. It is the ideal place to unwind after a stressful day, thanks to the chaise feature. This sofa is strong and long-lasting thanks to its premium materials and modern design.

The space that a four-seat sofa provides is one of its biggest benefits. 4 people can sit comfortably, making it ideal for hosting parties or get-togethers with friends and family. Another option is to unwind over a romantic movie night with your loved ones. With the 4 seater chaise sofa from Banana Home, your living room will be enhanced, and you'll be the ideal host. A four-seater chaise sofa from Banana Home will instantly improve your house!
Discover the perfect blend of comfort and luxury with Banana Home's stunning velvet sofa collection - browse now and add a touch of elegance to your living space!
Choosing a 4 Seater Sofa for Your Home
For a classic look, check out our selection of leather 4-seater sofas. Available in a variety of colours, our leather sofas are sure to make a statement in any living room. Or if you're after something a little more contemporary, take a look at our fabric 4-seater sofas.
From bold prints to neutral hues, we've got a fabric sofa to suit every style.