Sofa in the Spotlight: The Lottie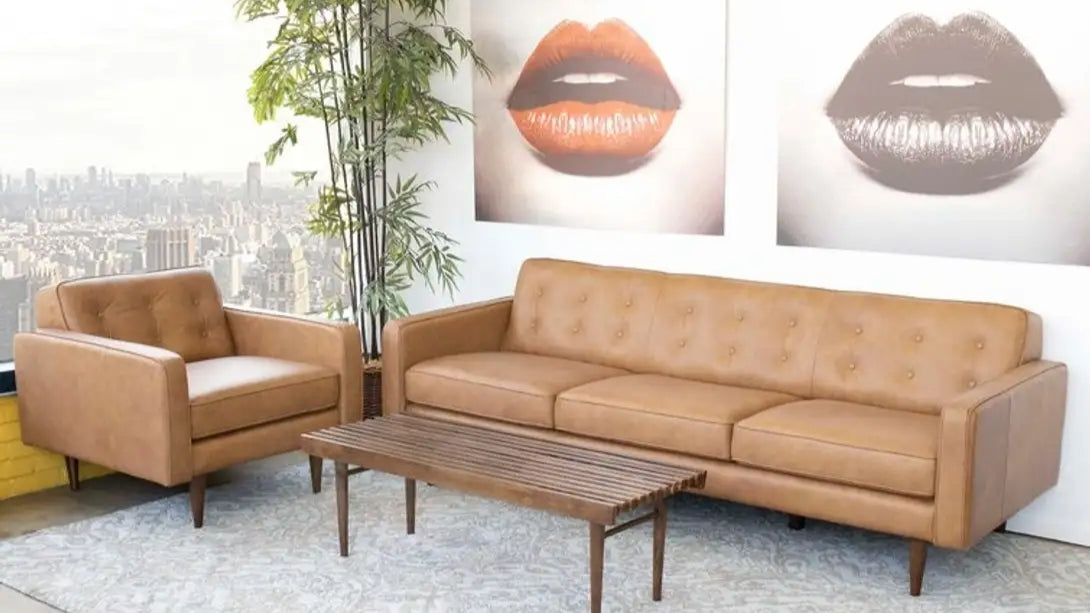 Posted by Thomas Goldsworthy on September 23, 2022
Upholstered in our classic caramel full-grain leather elevated with beautiful oak legs. The Lottie sofa has a timeless look and enduring style that you will love season after season.

The long-lasting, immensely durable leather material coupled with our high-density foam, makes this sofa the perfect piece for any home as it creates a welcome spot to sit back and relax and let the stress of the day slip away. If you are looking for a loveseat or a little extra room, the Lottie sofa is perfect for you!
Finding the perfect hue
We offer 4 unique leather colours with neutral tones, giving you the opportunity to style your space to suit retro, heritage, coastal and contemporary spaces alike. Add bold colours, and pillows and throw rugs or opt for a minimalist aesthetic with this versatile colour range.
Putting comfort to the test
The seat cushions are made from premium, dual-layered high-density foam. Costly? Yes, but we pride ourselves on using high-density foam ensuring our pieces last structurally and remain comfortable for many years to come. The Lottie sofa is the perfect mix between firm and soft. Foam cores will soften by 10-15% with usage, this is a natural property of foam, which will unlock the ultimate comfort in your leather sofa. 
Why leather is worth the investment!
When buying any leather furniture, it is always important to truly understand the type of leather that you are investing in.

At Banana Home, we pride ourselves on being able to provide our customers with the best quality materials at the most affordable prices. We have spent over 30 years working with our manufacturers to ensure that the full-grain leather used on all our leather sofas is worth the investment!

Full-grain leathers are superior quality hides, ideal for premium furnishings. Soft yet hardy, full-grain leather is very durable and will age beautifully, developing its own unique personality with use.

Handstitched, cut, and tailored, our sofas are built to last. Rolled for nearly a day to achieve a warm, matte, finish. A time-intensive process gives the leather a buttery-soft feel. Over time and with wear, the hide will develop an exquisite vintage patina. Variations in colour and texture make each piece unique.

Our leathers are aniline-dyed for softness, beauty, and durability. The word aniline is an industry term for transparent dyes that are used to colour hides. This process penetrates the leather, dyeing it with non-toxic transparent dyes, which allows the leather's natural markings to remain visible.

After aniline dyeing, the outside surface of the leather is coated with a pigmented resin, and then a subsequent clear coating for durability. These layers of pigment and wax are gently buffed to bring out subtle highlights and lowlights. Aniline leather is the absolute pinnacle of leather quality as it is the softest and most natural-looking leather possible.
So why leather?
It goes without saying that this beautiful leather sofa speaks for itself, but we have a few points that may help cement your decision to invest in a Lottie sofa… 
More bang for your buck
Excuse the analogy, but there is a reason every Aussie has a famous pair of leather boots in their closet (We won't mention the brand for legal reasons), they practically last a lifetime… Much like a good pair of leather boots, a leather sofa will last a lifetime. Here is a fact drop for you, leather tends to be four times more durable than fabric, giving you a great return on investment.
Leather is Low Maintenance
Whilst leather is buttery soft yet hardy much like our skin, it does require some 'lotion' from time to time. We recommend applying a leather conditioner with a microfibre cloth, every 3-4 months. Conditioning your leather sofa will help keep the leather soft and prevent tearing by reducing friction. This protects the leather surface which further enhances the patina and deepens the leather colour.

We know there may come a time when the muddy puppy makes a beeline for the sofa, or the kids get carried away with a bit of slime or maybe mum just spilt a bit of wine, all will be okay. Using a damp microfibre cloth, gently wipe any dust, dirt, or spills away and allow the leather to dry.
It's Hypoallergenic
Leather sofas have always been the preferred fabric choice among those with allergies. The nature of a fabric sofa tends to become a breeding ground for dirt, dust, and pet fur if it is not frequently cleaned. A leather sofa will repel dust and dirt and it makes vacuuming pet fur very easy, helping you keep your sofa clean. 
It keeps you warm in the cooler months!
It is a common belief that leather sofas will be too cold in winter. We tend to disagree, although initially, leather can feel cold to the touch if your home is not heated, a leather sofa will quickly adjust to your body temperature once you sit down. Leather is a porous and breathable material, much like our skin, it adapts to the temperature of its surroundings, meaning it will keep you consistently warm once you are sitting down.


Let's sum it up
Are you looking for a leather sofa that is a style dream, luxuriously designed for an eye-catching and pleasant addition to the living room? We know you will fall in love with the Lottie sofa that adds prestige to any interior.
For our lovely customers that are not sold on the idea of full grain leather, we would hate for you to miss out. We do have the option to customise our leather sofas in faux leather. If this option interests you, you can reach out to our friendly sales team which would be happy to assist you with our faux leather options.
Previous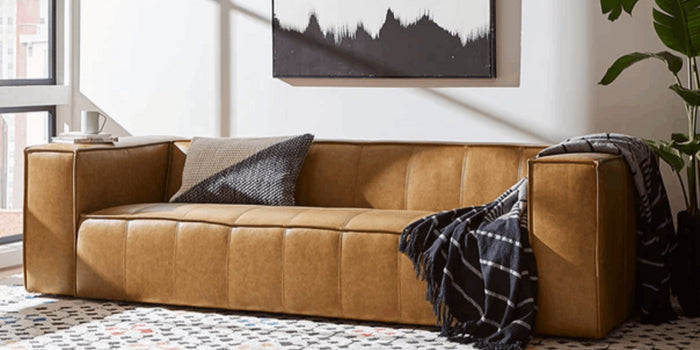 Posted by Thomas Goldsworthy on September 23, 2022
Next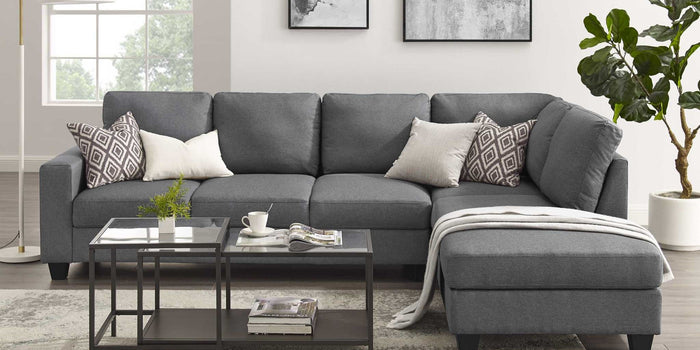 Posted by Thomas Goldsworthy on September 23, 2022