Modern Living Room Ideas: Design Tips to Transform Your Space
Posted by Thomas Goldsworthy on March 09, 2023
Clean lines, simple furniture, and striking colours – modern living rooms use minimal design for max impact. But this functional space should be fun, too. We've compiled our favourite modern living room tips below, so you can rest easy when you come to restyle.
Mix old with new
Achieving a modern look doesn't have to mean covering up existing features. Make them work for you and your modern look by planning them into your new space. Rustic beams can be brought up-to-date with complementary wooden furniture in more contemporary styles.
Or suspend an on-trend LED pendant or cluster light from them to really make them glow. A traditional fireplace looks great with an irregular-shaped mirror or a modern wall clock hung above it. Then add some mantelpiece accessories in unexpected shapes, like angular, asymmetrical candlesticks – modernising mission accomplished.
Pick quality, not quantity
When it comes to designing your living room, it's important to take a thoughtful approach. Opting for trendy colours or furniture with a limited lifespan might seem tempting at the moment, but it can quickly become impractical and wasteful in the long run. Instead, consider choosing pieces that are built to last and have a modern aesthetic that doesn't rely too heavily on fleeting trends. For example, a classic leather sofa is a timeless choice that is not only durable and sturdy but will also remain stylish for years to come. By making responsible choices in your living room design, you can create a space that is both functional and beautiful for the long haul.
Geometric shapes – like a hexagonal side table topped with smoked glass – always stand out without losing their appeal too quickly. And so do metallic accents and durable fabrics like leather and velvet. Make your modern furniture choices functional, and invest in quality pieces built to last: like bookcases and sideboards. They'll pass the style test, and you'll get used to them for more than one season.
Play with texture
The modern living room look keeps it super simple, but that doesn't have to mean dull. Try switching up the textures you pick, like contrasting white gloss cabinets, or high-gloss wood, with powder-coated, monochromatic pieces. Ditch heavy curtains and opt for linen blinds instead – light's always important, but it's especially important in the living room. Or, make a feature of them by going for shades in bold shades – an easy way to add colour to a neutral palette and an affordable way to warm up a more modern space. Finish the look with wall art, throw cushions and rugs in the same statement colours.
Make colour matter
And on that note, colour's key – modern doesn't always equal monochrome. Neutral shades like taupe or pale pink work well in pared-back living rooms, while pops of primary colour add energy to calmer spaces – try trending tones like yellow or orange or muted ones like petrol blue and sage green if you want to keep it calmer. An easy way to add colour to a modern living room is to pick up a geometric rug or multicoloured wall art – paired with simple furniture and clean lines, and you'll instantly transform your space while keeping it contemporary.
Previous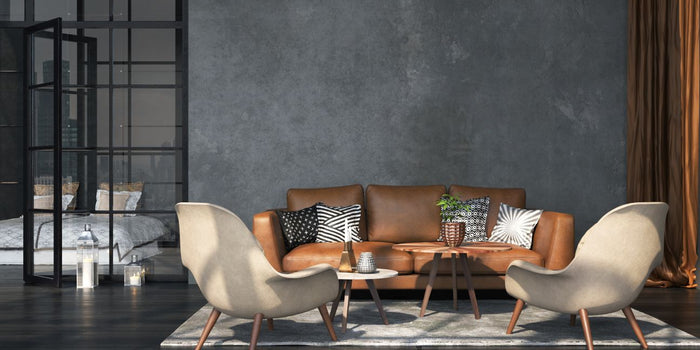 Posted by Thomas Goldsworthy on March 05, 2023
Next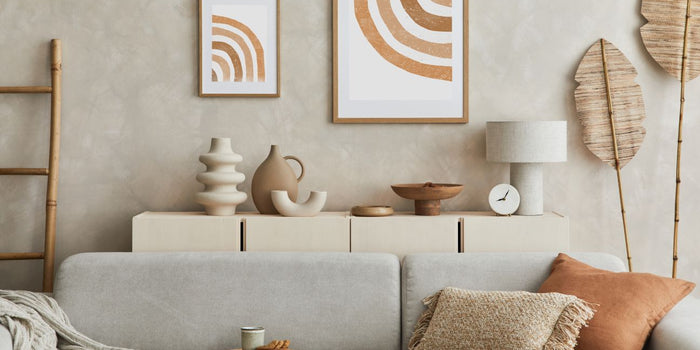 Posted by Thomas Goldsworthy on March 13, 2023